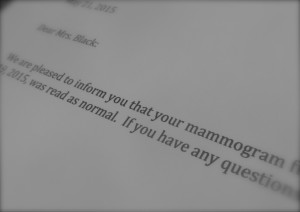 Even though it is May, not October, when pink ribbons pervade everything everywhere, the topic of mammograms is still important.  Certainly to me, as May is my mammo month.  But breast cancer awareness should not be reserved for any singular time of year, it should be a regular, habitual occurrence.  (I don't really think there should be specific cancer-awareness-months; every month should be all-cancers-awareness month, but now I'm off-topic).
It's easy to think breast cancer affects "older women" and most often it does.  However, younger women are struck with the disease, too.  By younger women I mean mothers of young children…women in their 30's and 40's.  And these women aren't anecdotal, faceless cases…they are friends, colleagues and fellow sorority sisters.  And if I know some of these women, chances are you do, too.
So moms, we need to get our mammograms.  The process may be physically uncomfortable, perhaps we feel a bit embarrassed.  Or we are simply scared to make the appointment, afraid of the results.  The media, pommelling the public with the graphics of breast cancer has certainly not helped us feel more comfortable about taking this important step in our healthcare.  But let's put it this way:  early detection.  The sooner a lump is found, the better and more successful the treatment options.  And an important tool in the early detection process is the mammogram.  You are probably aware of the controversy over how and when this test should be used, but in reality, the mammogram is a good screening tool.  Then there is the when- and how-to-do breast exams, which has evolved as well.  It's confusing.  The implications of doing (or not doing) either is scary.  So let's reduce the information on both to what you need to know:
1)  When do I need to start getting mammograms?  Opinions vary.  The American Cancer Society and the American College of Surgeons both agree women should start getting mammograms at age 40 and be screened yearly after that.  However, the American College of Physicians and the U.S. Preventative Services Task Force beg to differ:  both recommend women start at age 50.  The rationale to starting a full decade later?  In a nutshell, the reason is monetary.  But there are costs more lofty than that:  the loss of productivity, of potential and sadly, of parenting.  And given the number of younger women I know who have breast cancer, I know I want regular mammograms in my 40's.  And your gynecologist likely feels the same.  Get your first (baseline) mammogram at age 40.  Then discuss with your practitioner your risk for breast cancer…and agree on a screening plan based on your personal and family health history.
2)  Should I do a self breast exam (SBE)?  A decade ago, without exception, I taught all my female patients the SBE and told them, absolutely, do it.  Now, despite current thinking that SBE has only a small impact in finding breast cancers, I would still say, absolutely, do it.  You need to know how your breasts feel and look and the best way to become familiar with "normal you" is to check things out once a month, preferably a week after your period ends (there is less breast swelling at this point in the menstrual cycle).  If you know your "normal," changes in your breasts will be easier for you to pick up on.
3)  When should a doctor do a breast exam for me?  A clinical breast exam (CBE) is typically done when you go for your annual pap and pelvic exam.  Recommendations say a CBE can be done just every three years for women in their 20's and 30's, then yearly once a woman turns 40.  But reassurance can go a long way…get a CBE every year even if you have not hit the big 4-0.  It's just good, thorough healthcare.  And you are going in for your "annual" anyway.
4)  I've gotten my mammogram…but not my results.  Is no news good news?  Some medical practices operate under this pretense.  That's not good care.  In fact, it is now required of your doctor's office to send you a letter informing you of your results, no matter what.  So if you haven't heard anything two weeks after you've had your mammogram, call your practitioner's office.  Ask to hear the results of your mammogram over the phone and let the staff know you haven't received anything in writing.  Then once you do receive your letter, keep it in your personal records.  Because if you should move or need to transfer your healthcare (as with an insurance change), you will want your previous mammograms transferred as well.  All the information to do so will be included in that letter.
Every October there is a deluge of media and merchandise to promote breast cancer awareness.  Then it all goes away as quickly as it appears.  But "don't forget the pink:"  check out this site with some wonderfully concise information for year round breast health:
http://ww5.komen.org/BreastCancer/BreastSelfAwareness.html