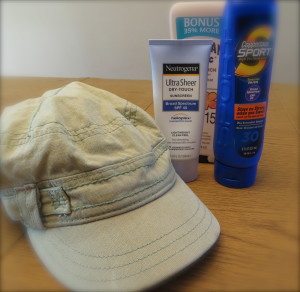 Everyone notices when someone sports that gorgeous sun-bronzed skin from a sunny vacation.  But my family?  The people who get sunburned through car windows?  We return from a week away and people look at a quizzically and say, "Where did you go, again?  Submarine cruise?"
I honestly could kick myself for not buying stock in a sunscreen manufacturer before we had kids…given their genetic legacy I knew they would be more sun-sensitive than a field of solar panels.
Most of us use more sunscreen in the summer than any other time of year.  And most of us don't think twice about slathering it on our kids or ourselves because the jury has been out on the topic for a long, long time:  sunscreen, when used properly, not only prevents sunburn but reduces the risk of skin aging and skin cancers (notably melanoma).  Despite the difficult-to-pronounce ingredient list few of us give the exposure to such a second thought, especially given the alternatives: painful, blistering, aging skin and possibly the big "C."  Not to mention no one wants the papier-mâché appearance of titanium or zinc-based ("physical") sunscreens unless limited to the noses of their children (which is darn cute).
But what about all those chemicals?  Their safety has been a question mark in the back of my brain, and perhaps yours as well.  But given few viable other alternatives, I just keep a-slatherin'.
Until my husband emailed me this link: Continue reading →